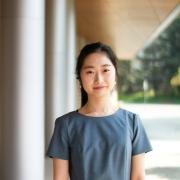 Jee Kang
Staff Research Associate
(mentored by Arabella Young)
Jee graduated from UC Berkeley with B.S in Chemical Biology in Fall 19.
She and Arabella are working on the development of immune-related adverse events in response to cancer-immunotherapies in cancer. They are developing preclinical mouse models to assess both anti-tumor immunity and autoimmunity together. I'm interested in autoimmune diseases such as type 1 diabetes as well. 
Outside lab, she enjoys watching dramas, water painting and buying/taking care of plants.